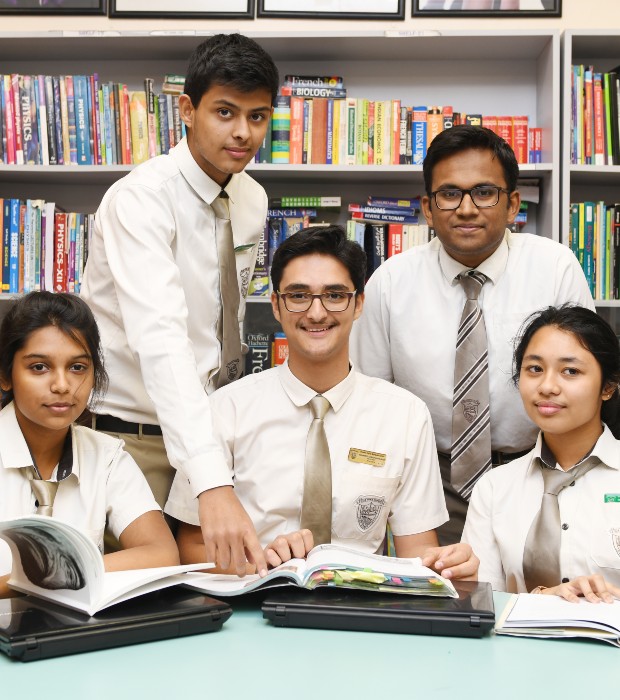 Academic Peformance - CAIE
Cambridge Assessment International Education
"Education is a shared commitment between dedicated teachers, motivated students and enthusiastic parents with high expectations"
Today, the role of a school is not only to pursue academic excellence but also to motivate and empower its students to be lifelong learners, critical thinkers, and productive members of an ever-changing global society.
We aim to provide excellence in all our education programs. High expectations are reflected through high levels of student responsibility and conduct and in student high success rate in relation to entrance to tertiary education & employment.
We are very proud of the sincere and hard work of our students and the dedication and commitment of our teachers. Without this team effort it would not be possible to achieve success.
Key Highlights
Student
Achievement
Paula Arissandra Margaja Dizon
Top in the world, English as Second Language IGCSE
Sana Hufsa
Best across three in UAE, A Levels
Top in UAE, A Level Mathematics
Mahmoud Khalid Salah Abdalla
Top in UAE, AS Physics
UAE High Achiever in A Level Further Mathematics
Mohamad M.Fakhri Alhakim
Top in the UAE, International Mathematics IGCSE
Our students continue to out perform their best at the board examination and it is our pleasure to share the results of the CAIE during the academic year 2018-2019.
Advanced Level
Overall Highlights
| | |
| --- | --- |
| % of Students | Grade Received |
| 100 | A* - E |
| 44.4 | A* - A |
Toppers
Student
Grades Received
Sana Hafsa
3 A*
Mohamed Ahmed Abdelaziz Omar
3 A*
Alaa Azam Elfadil Ahmed
1 A*
2 A
Lobna Salem Salem Hassan
4 A
Khushboo Bibi Ilyas Ahmed
3 A
Nazneen Kanwal Shahad Ali
3 A
Advanced Subsidiary
Overall Highlights
| | |
| --- | --- |
| % of Students | Grade Received |
| 94 | A - E |
| 44.2 | A - B |
Toppers
Student
Grades Received
Mahmoud Khalid Salah Abdalla
1 A*
7 A
Amro Mohammed Hassan Ahmed
3 A
1 B
Sakina Moawia Taha Mohamed
3 A
Shaima Mazin Mohammad Shakhatreh
3 A
IGCSE
Overall Highlights
| | |
| --- | --- |
| % of Students | Grade Received |
| 76.6 | A* - C |
| 30.1 | A* - A |
Toppers
Student
Grades Received
Malaz Shambati Mohamed Elbasheir
8 A*
Salem Awadh Abdun
6 A*
1 A
Nour Mohammed Abdelaziz
6 A*
1 B
Mohamad M.Fakhri Alhakim
6 A*
1 B
Riem Ahmed Abdelaziz Omar
5 A*
2 A